What the service is:
For certain interior design projects, clients require a turnkey service from their designer, wanting the comfort and reassurance that their scheme is being developed in safe hands. This is called the Full Architectural Service and starts at the inception of a project through to project handover and beyond. There is an agreed process and this is divided in to varied works stages. These are detailed in the following paragraphs:
Survey & Due Diligence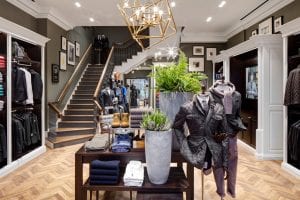 At the start of a project, regardless of which sector, it's important to understand what information exists for the commercial property or site in London or Essex before a detailed
brief can take place. We analyse this information, the quality and relevance of it, establish the gaps or inconsistencies and identify what assumptions might have been made to this point so that we can test them in the following survey process.
This stage is called due diligence.
Often no information exists, and the first step is to survey the site or property.
Whether information does or does not exist, we commission the surveys dependent upon the needs of the project and client's budget, and these can range from:
visual inspection
dimensional surveys
building conditions surveys
land survey
tree survey
topographical survey
soil survey
building services condition survey
These surveys don't have to be carried out all at once but can be staged sequentially to meet the project requirements. The outcome from all of the above is typically a drawing and/or a report which enables us to accurately help develop your project and provides an accurate starting point.
Why it's important
Without quality information, projects start on the wrong basis. This stage provides accurate, co-ordinated information for us to progress the initial design stage.
How we do it
We provide the survey requirements for architecture and dimensions, together with the commissioning a range of specialist surveyors to provide their relevant field of expertise. We co-ordinate and brief this team, obtain costs prior to appointment for the client to approve.
Post survey, we provide a coherent set of current accurate information to the client which includes the specialist surveys and drawings. This is then the basis that the project can move forward on to the concept design stage.
Contact our team based in Essex and London today to discuss our full range of interior and commercial architecture design services.