Over the past decade offices have become more and more open plan and high-density. Remote working was not part of many office cultures. In many companies, pre-pandemic, if you werent at work, then you probably werent working.
In the past few months companies have had to reconfigure business models as Covid-19 lockdowns have required employees to work-from-home. Covid-19 has forced us to accelerate new ways of working, jumping forward a decade in a very short space of time.
Back to the Office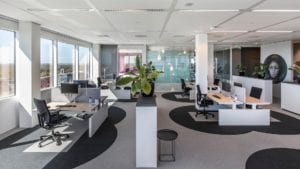 The reality is that, at some point, we will have to go back to the office. For many, working from home is not a long-term solution. Either the job itself isnt possible long-term from home or the home environment is not conducive to long-term working. Most importantly though, for many of us, work is a social, community-led activity. We miss being with our colleagues. We miss those informal run-ins in at the coffee machine. We miss the separation between work and home lives.
The likelihood is we will see a hybrid approach of remote and in-office working in the coming months. With employees expressing caution and a degree of fear at returning to the office, companies need to create a working environment that takes into account Covid-19 and employees well-being. Staff will need to not only feel safe coming into the office but feel that the space is compelling enough to come into and has the kinds of technology to support the new ways of working. It is important that companies engage with their people to get feedback but also to help allay fears.
Designing for Coronavirus
Companies will need to consider new things in office design: How can staff circulate around the office without issues of contact? How does hot-desking work? How can digital methods allow staff to book desk space, track occupancy and potentially contact tracing? What are the potential changes to office materials like the use of bleach cleanable fabrics and the use of glass?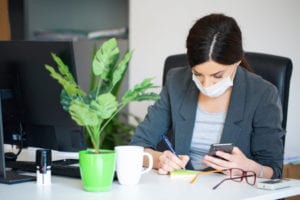 The new normal offices will need to be:
Driven by data insights

Flexible and adaptable

Technology enabled

Fit-for-purpose around the employees needs

Collaborative and enabling productivity

Designed around using space in different, creative ways

Focused on promoting community, the company culture, employee well-being and health
Flexible workspaces
Agile spaces will become more important as office areas need responds to changing space as needs and office populations. Putting wellbeing and health at the centre of office design will be key to creating an environment where people not only feel safe but where they want to be.
Other new innovations to consider include:
Contactless solutions to minimise touch at high-touch areas like doors and elevators but also to potentially measure contamination or show how recently something was cleaned.

Hygiene stations sanitiser and handwashing basins

Furniture solutions that minimise contact but maintain the sense of community and culture

Airflow measures and air quality devices and monitors

AV, IT and unified communications and collaboration solutions that help to connect remote workers with those in the office

Versatile versus built furniture options to allow for flexibility and agility
It is still unclear what the post-Covid-19 working world will look like but there will need to be a rebalance of working practices between remote working and office-based working. Technology will lead the way and automation will play a big part in making this the new normal. If this situation has taught us anything it is that things change and we can adapt and adapt quickly when we need to.