What the service is
Visuals can be created and presented in several ways, giving clients options.
Computer-generated, photorealistic static visuals, 100% true to the drawings from which they are derived, faithfully represent your project intent and can serve as a very useful sign off or marketing document.
On larger projects, where there may be a critical programme sequencing (for example, enabling works, crane and hoist usage, closing roads to bring in materials etc) we offer 4D Revit animations which shows a moving timeline linked with annotated and colour-coded sequenced works. This is an extremely useful way of demonstrating complex methodology in an easy to understand format.
We also offer artist impressions, which are less accurate but give real insight into what your project could look like, depicting design elements, finishes and proposed layouts. These have the advantage of being much quicker (and cheaper) to produce – ideal for fast-paced or budget-sensitive projects.
Virtual reality is a software-generated 3-dimensional environment that can be manipulated by you – literally walking from room to room in dimensionally correct environment.
At SKK Design we believe that these four options offer architectural and interiors solutions for projects across London and the UK.
Why it's important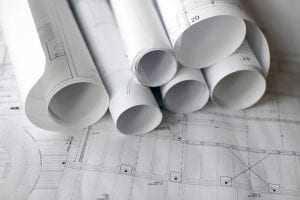 Many clients are not familiar with 2 dimensional drawings and in order to understand or approve a design, often a 3-dimensional photo realistic visual, that accurately brings a scheme to life can assist in this process. Similarly, cutting edge technology enables virtual reality 'walk throughs' of a scheme to really explain a customer journey in the space, before contractors are on site, thereby saving time and money.
Visuals may be looked upon as a 'nice to have' confirmation of how the finished article could look. Our view is that they are a key element of the design sign off process that are simple to amend and revisit, ensuring that the client has no surprises at completion.
"I will go to SKK Design because I'm getting a good price, I'm getting an excellent service, as far as I'mconcerned, they can't be beat. I just don't feel the need to go anywhere else."
Albert Gray, Warner Chappell
How we do it
Photorealistic static visuals are created from extruded CAD plans and elevations, camera angles are set up showing key elements to which materials, lighting and fixtures are created and added. You might struggle to see the difference between a photograph and our completed visuals!
4D Revit animations are similar in set up to above but with a greater emphasis on buildability, programme and fundamental practical considerations. They lend themselves to complex, large projects over months or years.
Artist's impressions are line perspectives, overlaid with a colour wash of watercolour or markers. Many of our clients like these best as they show that traditional, human skills are still a big part of our offering.
Virtual reality follows a similar process to a static visual often requiring a slightly lesser level of detail, but over a larger area so that any walk through is seamless.
What's the outcome?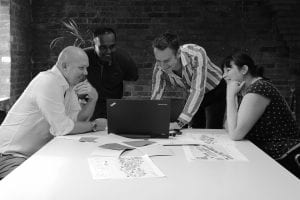 A far better understanding of what the end result will be. This applies not just to the client, but the whole design and delivery team.
It is assumed that the construction team do not need to be involved in the design process – in many ways, after the client, they are the most important part of the puzzle. Having a very clear design intent visual is an excellent tool of communication for all involved.
For virtual reality and architectural and visual interior design solution examples please get in touch and we'll be happy to send you some relevant information.
If you'd like further information regarding our virtual reality & visual interior design solutions, please get in touch.