An action plan for office renovation
You're stepping on each others toes. The place looks shabby and run down. Work spaces are noisy, ill lit and poorly ventilated. The office layout makes communication and collaboration difficult, if not impossible. And your IT and wifi systems are outdated.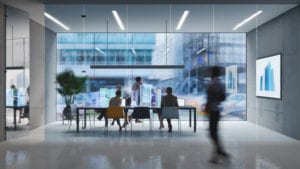 For these and other reasons your office urgently needs refurbishing. But where to begin It's been said that a goal without a plan isn't a goal, it's a dream. This is especially true of office refurbishment. First you need to define your objectives and then the logical steps you must follow to achieve them.
A clear plan of action makes what might seem like a daunting prospect a more manageable one. And fortunately, help is at hand. At SKK Design, our longstanding experience as design consultants has led us to produce a FREE step by step Guide to help our partners plan their refurbishment purposefully and painlessly.
At a glance, here's what you can expect from our FREE Guide on refurbishing your office:
Using your why to aid your refurbishment goals
Creating a task force
Identify your needs and wants
Selecting a Design Practice
Fixing a project budget
Agreeing a plan of action
Office furniture
Onsite project management
The FREE Guide begins by helping you identify your main reasons for undertaking an office refurbishment, from a 'wish list' of your needs and wants to a 'hate list' of issues you need to address in your existing premises, an essential prelude to creating a briefing document.
The FREE Guide also sets out the virtues of assembling an internal project team headed by a project leader who is a good communicator and hands-on manager. Someone who can delegate responsibilities to individual department heads. Just as importantly, the FREE Guide identifies the key criteria you need to apply when appointing a design consultant, including a searching questionnaire that will help you separate the professionals from the pretenders. Our experience includes recommendations of quality consultants and or contractors if required.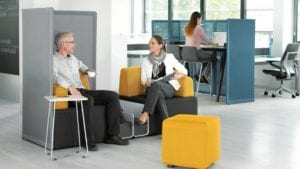 When it comes to budgeting the project, the FREE Guide will not only show you how to cut your coat to suit your cloth, but will suggest some additional sources of funding you might not have considered, but which could greatly enhance the scope of your refurbishment scheme.
Few organisations can afford to put work on hold whilst a refurbishment project is in progress, and the Guide talks you through the strategies and procedures needed to continue doing 'business as usual' in the interim, whilst causing the least disruption and maintaining staff morale and productivity.
Finally, on the countdown to handover, the FREE Guide reviews inspection and evaluation procedures and how to achieve a smooth transition that will optimise efficiency and operational continuity. It will also offer suggestions on how to handle internal and external public relations to give the maximum PR mileage out of the changeover with a celebratory event to mark the occasion.