The caf is fast becoming the new pub. With the cost of a pint or glass of wine continuously rising, the caf is a cost-effective, family-friendly alternative for get- togethers, work meetings and local events. At SKK Design we have made a speciality of helping our clients launch new high street start-ups. Below are our seven strategies for making your caf design a popular and financial success.
By 2021 the coffee shop market is estimated to be worth a staggering 4.3 billion.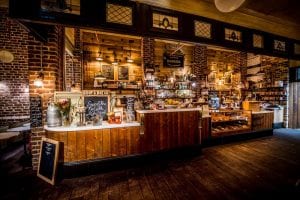 Starbucks, Costa and Pret dominate the High Street, yet even they are moving away from imposing formulaic designs. Customers expect welcoming and attractive spaces with quality goods. This is where the independents score. A growing market sector, they can provide quirky individuality with roots firmly in the local community.
Here are our 7 strategies for success in caf design:
Geographical Location. Ask yourself: what is missing in the areas current offer that you could provide? Does your building have an interesting history or feature you could capitalise on?
Use of Local Labour and Materials. Sustainability is a huge trend and creates a good deal of lasting good will. Work together with other small businesses.
Open Plan Kitchens. Not only can these create additional seating space, they also involve and engage the customer: sharing smells, sounds and activity.
Technology: see what your rivals are offering and try and improve on it. You may choose to offer only USB ports by hard stools to discourage guests from buying just one coffee!
Space Planning: put the customer experience first by creating an environment conducive to sales and accessibility without neglecting the aesthetics which give the space its character.
Maximisation. Can you offer more than daytime coffee and pastries? Could you cater to evening events like wine tastings, collaborations with local artisans and the sale of alcohol?
Costs. If you need to apply for Planning, Listed Building Consent or landlord approval, have an outline set of drawings and specifications that can be accurately costed by a builder.
Creating a concept for caf design is only the beginning.
Planning, design and turning your vision into reality takes expertise and experience.
Be clear on your target audience, know your market and find an architectural designer who shares your values, enthusiasm and vision.