With stress, depression and a raft of mental health issues accounting for almost 14 million days of lost work in the UK last year, increased support of employee wellbeing in the workplace has never been greater. As office spaces encourage more natural light and airflow – thankfully, heading away from traditional, cubical styled, fluorescent-lit offices we ask ourselves, how can contemporary co-working spaces further improve their inhabitant's wellbeing?
While the co-working phenomenon would have sounded crazy in the not too distant past, we've seen first-hand how the co-working trend is transforming modern office design, and how the experimentation with office design knows no bounds. One particular aspect of the pattern has seen incredible prominence in the last few years: the outdoor office. Like a beer garden at your favourite pub, they add another element of tranquillity to your workspace and combine the regular practicality of a well-designed office with the beauty and ease of nature.
While your business may not have the budget (yet!) to have a 9-acre rooftop garden for staff (like Facebook), an outdoor office can be as simple as you like. And there are fantastic ideas that offer alternatives to traditional indoor spaces; this could be as simple as utilising your workplace patio or courtyard with picnic tables and umbrellas, positioned in areas flooded with natural light, combining them with a selection of plants.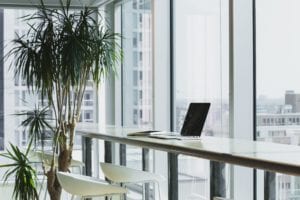 If your office space has limited outdoor options, think about ideas that could be used in the future that do away with conventional design, however, if you have ample space, an investment into an outdoor space could prove invaluable.
Regardless of the layout you decide upon, be sure to maximise natural light as a priority. In doing so, employees will likely become more productive, as there is a natural preference to be in nature rather than a traditional office. This is why the notion of outdoor space in the co-working industry is becoming so popular not just a fad.
All staff can enjoy the benefits of an outdoor space, which can then also provide a location for meetings that were usually reserved for bland, cubicle styled rooms. This is where the notion of an outdoor office further blurs the line between business and leisure: meaning employees will become less stressed while producing a higher quality of work.
So as time passes, and different interpretations of the 'outdoor office' are welcomed, the likelihood of them playing a role in your company's culture should be investigated as the benefits are hard to surpass. Just ask the guys at Facebook!