When it comes to architecture, are you a modernist or a traditionalist? Do you side with Norman Foster, creator of London's 'Gherkin', the headquarters of the Swiss Re insurance company, or Prince Charles, the squire of Poundbury, the classically styled model town in Dorset?
The latest battle in the war between modernists and traditionalists is the condemnation (or commendation, depending on your point of view) of 'Facadism'. Facadism is about keeping the facade of a (usually historic) building, demolishing everything behind it and building something else in its place.
Some of the more striking examples in London include the National Provincial Bank, Threadneedle Street, and the London Fruit and Wool Exchange, Spitalfields, both of which now look like studio flats in a Hollywood back lot.
Is this conservation or desecration? Such buildings are the very fabric of our architectural heritage and are presumably protected by a preservation order. But couldn't the whole building have been repurposed without demolishing all but a modesty screen for an incongruously mismatched building behind it?
Isn't this just conservational tokenism on the part of developers and planning authorities – done in the name of expediency, profit and inflated business rates? Or should we be grateful that any vestige of the original is preserved at all? When a building is demolished in entirety, it often seems that something less architecturally distinguished is erected in its place.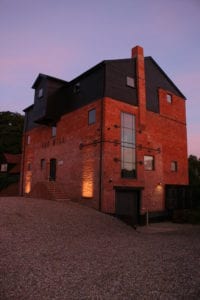 Is the rise of Facadism an admission of defeat? An acceptance that quality architecture is a thing of the past? We mentioned Norman Foster as a proponent of modernism, and love it or loathe it, his 'Gherkin' is a stunning example of his style. As one journalist said about it when it was built: If at least one scene of the next James Bond film isn't set there, I'll eat my hat!
But actually Norman Foster's redesign of the British Museum and its new interior courtyard is proof that enhancement of period architecture can by handled sympathetically and well. The graceful steel and glass canopy of the courtyard both respects the classical architecture of the original building and provides a gentle counterpoint to it.
Whilst we wouldn't necessarily put ourselves in the same class as Norman Foster, we at SKK believe that a harmonious blend of traditional and modern can be achieved in the restoration and repurposing of period buildings, a policy we have followed in refurbishing our own offices from a former Victorian flour mill.