Caves may have been the Stone Age equivalent of affordable housing – they were, after all, 'ready-made' – but man is not by nature a cave dweller.  His preferred habitat is more like the Garden of Eden – light, airy, green and spacious.
During the summer months I live almost exclusively in my conservatory or the patio that overlooks my back garden.  More affluent types lounge poolside or under the leafy shade of their wooded grounds. But you get the idea. We're happiest in that crossover zone between indoors and out – secure in our home yet at one with nature.
All great architecture recognises and accommodates that fact.  In Roman times the villas of the well-to-do were built around atria – central open courtyards surrounded by enclosed rooms on all sides.  Some even had a central pool – anticipating Hollywood homes by centuries! – although theirs were generally used to collect rainwater.
The urge to bring the outdoors in can be seen throughout the ages in the arcaded courtyards of monasteries, colleges and stately homes.  Some stately homes also feature long galleries – enclosed walks where ladies could take their constitutionals without getting sunburnt – which back in the day was considered quite déclassé!
The concept of the atrium has also been enthusiastically adopted by modern architects, often in the spacious lobbies of public buildings, which might extend upwards by two or three stories.  For the trivia collectors amongst you the Burj Al Arab hotel in Dubai has the world's tallest atrium at 590 feet, and the Luxor Hotel in Las Vegas, Nevada has the world's largest atrium (by volume) at 29 million cu.ft..
Of course atria are just one way of bringing the outdoors in. Modern construction methods and materials – specifically steel and concrete – have made it possible to create glazed tower blocks with light flooded interiors (to the extent that some have to be fitted with projecting fins to deflect direct sunlight).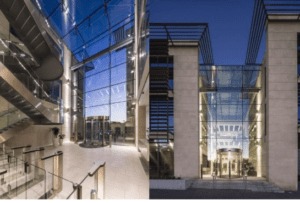 Historically the load bearing structure of a building was all in the outer walls.  In a modern tower block the main structural element is the pre-stressed concrete core, with concrete floor plates built out from it.  The external walls can therefore be light in every sense of the word.
Glazed steel matrices are another technique for bringing the outdoors in – notably in structures like the canopy covering the British Museum's central courtyard designed by Norman Foster, which we have mentioned before in these pages.
So, let there be light, air and space!  Modern methods and materials make it possible and the architectural and design skills of SKK are at your disposal in realising your vision of bringing the outdoors in.