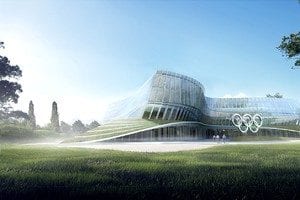 Olympic House, Switzerland, the headquarters of the Olympic Committee, meets the gold standard of sustainability in office building. In this profile we highlight the elements that make it outstanding – elements that we at SKK aim to incorporate in commercial projects for our clients.
Designed by Danish architects 3XN, Olympic House has been built with 95% of the former administrative buildings reused or recycled. In a move that has considerably reduced their carbon footprint, all 500 staff of the Olympics Committee are now located under one roof.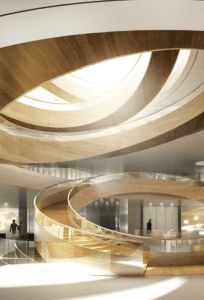 Five Olympic Rings
The design of Olympic House embodies five key elements: symbolism, integration, flexibility, collaboration and sustainability. The overall shape is harmonious and graceful and is inspired by the movement of an athlete whilst encapsulating each element within its framework.
Situated with the backdrop of Lausanne parklands, the internal configuration is set out to maximise views of the beautiful surroundings. The stunning central staircase visually links all levels and encourages you to walk just a little further to take in the views rather than taking the lift.
A New Beginning
With only 14 columns across the entire structure, every inch of space has been maximised. The open plan spaces, transparency and shared spaces encourage communication, facilitation and interaction as well as being aesthetically pleasing.
Even the furniture was a source of innovation and inspired engineering. The Olympic Committee pushed the market to its limits to find new ways of working for this iconic building.
Smart Stats for Olympic House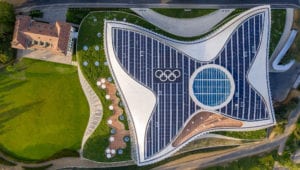 80% of construction costs were spent with local companies
95% of construction waste was recycled
35% reduction in energy consumption compared to a new standard office building
60% reduction in municipal water consumption to a new standard office building
95% of former administrative materials were reused or recycled
Awarded 3 Sustainable Certifications: SNBS, Minergie, LEED
The building has 2500 m2 of vegetated roof